First off, thank you so much for taking the time to read this thread!
This will be a very long first post.
Pre-requisite:
Saturday, December 26th, 2009
I was fortunate to be able to have this beauty sit in my driveway--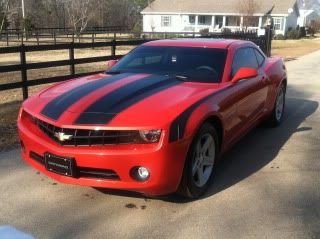 It was such a blast to drive around town and to each and every camaro meet that I went to. After a year or so (after driving a manual), I decided that I too wanted a manual transmission camaro...I had added black stripes,a remote start, subwoofer, AAC Lighting (Footwell, Dome, Trunk, License Plate, sidemarkers), and tinted the windows to my V6.
I proceeded to pull everything off the car minus the stripes and tint. The hunt for a LS3 was on.
Now, I went through a struggle trying to find a car. I'll explain.
There was a 2012 Summit White 2SS/RS LS3 on a lot in North Carolina at Hendrick Chevrolet with approximately 550 miles on it. It was priced at what I thought was a fair price and wanted to try to make a deal on that particular car.
The local dealership I was using was a "Hendrick Automotive Group" dealer...therefore on the internet most of their inventory was the same no matter if I looked at my local dealership, or the dealer who had the SS that I wanted.
Tuesday, December 13th, 2011
I called my salesman and he said if I came to the dealership that we could work numbers on the car in NC and if we agreed on a price it would be no problem to bring to car down to me. They appraised my car and said they would give $16,500 for my trade in. Not only was that insulting, but they also decided to price the SS for $1500 more than the price of the car on the internet. They claimed this increase in price was for "servicing, cleaning, and transporting the car." I told them that wasn't going to work and that I needed $20,000 for my car. (30,800 miles).
They come back to say that actually that car in NC isn't available anymore and that we can get just about the same deal on another one they could locate. I stepped outside and called that dealership. They confirmed to me that indeed the car was still available for sale and was sitting out on the lot. So it left made me wonder why they weren't interested in trying to work a deal on that car if they would swap cars and still get paid.
They come back and say they located a car near Columbus, GA and here is the deal we can get on it. We agreed on that deal and signed all the paperwork. Our salesman said that it would take about 2 days to get the car.
As we walk out the dealership, I ask to see a picture of the car...when my salesman pulls up the car it comes up and says "This car has been sold." I thought it was just that my dealer had called and told them to take the car off the internet.
Wednesday, December 14th, 2011
I call my salesman and he claims the guy who picks up the cars was off work that day and that he will go pick my car up tomorrow.
Thursday, December 15th, 2011
I call my salesman again to see what the deal is with my car. He gets an attitude with me and says "I said I would call you when I knew something about your car."
He claimed that the other dealership was trying to figure out what car they wanted in trade for the car that I bought. We got off the phone.
Around 5 PM he calls and says that they never had my car. He claims the dealership sold the car before we bought it. He also says that they found another car in Newberry, SC identical to the one we bought, except it didn't have the stripes on the car and it had premium floor mats and a cargo net....but they would put the stripes on my car free of charge and throw in the mats and net free of charge.
We told them to go pick up the car and we would talk when they got the car to the dealership.
Friday, December 16th, 2011
We call the bank to see if the dealership had cashed the $2400 downpayment we gave them. Come to find out they did cash the downpayment and we didn't even have the car!
I call the dealerships sales manager around noon on Friday to see where my car is. He said they were trying again to figured out what car the other dealership wanted.
I told them if that car was not sitting on their lot by 5 PM the deal was off.
4:45 PM I get another call from the salesmanager who says my salesman was on his way to the dealership for my car, but that it was a 3 hour drive and he wouldn't be back til after 9 PM.
About 8:30 PM we get a call from the salesman who said he is about an hour out from the dealership and if we wanted he would bring the car to us and would take my trade in back with him. We said absolutely not and to take the car back to the dealership.
Saturday, December 17th, 2011
I call and make sure the car in NC is still for sale...which it was.
Then we call and tell the dealership that there needs to be some sort of compensation for lying to us, cashing a check without us even having a car, and being very rude in general.
We asked them to help us out and put on the stripes, a heritage grille, and a dovetail spoiler...all while they could take out the floormats and cargo net because I didn't want those. If they accommodated us it would be a done deal and we would pick up the car when everything on the car was done.
The sales manager said his manager was not in and that he couldn't have an answer til Monday. We told them that wasn't good enough and that they had til 5 PM to get back with us with an answer.
He calls around 4 PM and says.. "We will put the stripes on the car...and give you the floormats and cargo net that comes with this car and thats it...end of discussion." We promptly say "Deals off" and hung up the phone.
Called the dealership in NC and put a deposit on that car (THE ONE WE ORIGINALLY WANTED) and told them we would be up there tomorrow afternoon.
Sunday, December 18th, 2011
Leave home at 9 AM.....get home at 10:30 PM.....
600 miles later and 10 hours of driving.....
I now have the original car that I wanted all along...
2012 2SS/RS LS3
This was the worst car buying experience ever...but Hendrick Chevrolet in Monroe, NC was the easiest dealership to deal with. 5 Stars. If you ever need something from them, talk to Darlene and Jerry.
I will say, I had to argue with Jerry because he said the SS was made to run off 87 Octane
.... so I walked out and got the manual...
I'm sure he still filled it up with 87...so after I finish this tank of 93 I'll be doing the fuse pull!
Mods will come slow, but when I get them I will post them on here! Can't wait to get into conversation with you all!
Any ideas for a vanity plate is welcome!
Only idea I have so far is "SSUMMIT"
But kinda makes it sound like I'm stuttering.

thanks for reading!!!!!!!