Exterior:
GM Painted Ground Effects
GM Dovetail Spoiler
StainlessWorks Quad Exhaust Tips
P13W Fog Light Bulbs
Hockey Stripe Delete
Heritage Stripe Pin-Stripe
Factory Reproductions Style 41 Chrome Wheels
20X9 In Front 20X10 In Rear
Painted Calipers With Brembo Decals
RPI Designs Front Splash Guards
SS License Plate Bracket
SS Valve Stem Caps
Painted Rotor Hub Section
Daytime Running Light Harness
Rear Decklid White Out Decal
Painted Fog Light Bezels
Interior:
Red Stitching
2 12" MTX Thunder Series Subwoofers
MTX Thunder Series Amp
RCA Harness
Custom Sub Box
Aqua Blue Footwell Lighting
Red LED Trunk Lighting
Hurst Shifter Knob With Red Stitching
SS Trunk Latch Cover
Painted Door Panel Inserts
Painted Dash Trim
Painted Speedometer Bezel
Painted Shifter Bezel
Painted 4 Pack Gauge Cluster
Painted Steering Wheel Bezel
ZL1 Pedals
Lloyd's Mats Double Logo Red Binding
Performance:
GM Performance Axle-Back Exhaust System
Stainless Works Quad Exhaust Tips
BBK X-Pipe
K&N Cold Air Intake System
Eibach Pro-Kit Performance Springs
Skip-Shift Harness
Hurst Short Throw Shifter
Hurst Competition Stainless Steel Bushings
BBK Long Tube Headers
BBK Hi-Flo Cats
BBK O2 Sensor Extensions
FJ Performance Dyno Tune
CURRENT RATING: 415 RWHP 413 RWTQ
Underhood Cosmetics:
RPI Designs Custom Painted Engine Cover
Painted Fuse Box Cover
"Pony" Polished Wiring Harness Cover
Painted CAI Shroud
Painted Dipstick
EmblemPros Engraved SS Underhood Panel
Billet SS Radiator Cap
Billet SS Overflow Cap
Billet SS Strut Tower Caps
Billet SS Master Cylinder Cap
Billet Battery Terminal Cover
River City ABS Cover
2010 Camaro 2SS/RS
When I was younger my dad bought a 1991 Camaro RS. That's pretty much where it started. I love cars in general. I have made a career out of loving cars. My main goal while I was in high school was to buy a 4th Gen Camaro. I worked my butt off to get that vehicle. Through the years I really grew to appreciate the GM product line, this is around the time I graduated from college and was trying to find the perfect job for me. I called the owner of our local Chevrolet dealership and pretty much begged him for a job. He asked me to come down and talk with him. I was so excited on the way to the interview. I got there, sat down at his desk, and I handed him this big portfolio I made that illustrated some of my accomplishments academically and from a community service standpoint. He flipped through 2 pages of my portfolio, closed it, handed it back to me, and said "I just need you to come in and answer the phones a couple hours a night". My heart sank. I had this wild image of myself walking into a career and a full-time position. I thought hard about it though. I made the decision to take the position and prove that I was an asset to this company. I made a great impression answering the phones and then he let me go down to internet sales to take pictures of cars. While answering the phone I used to stare out the window at the Camaro's parked just out the front door of our dealership. That's when I acquired this burning desire to get one of those vehicles. I had a 99 Camaro at the time, but the new ones were so incredibly nice that it made me really focus on saving to get one. One month into that I was offered a full-time position as a Service Consultant. I took it and worked my ass off. Anybody that has ever done that job knows that everyday is a stress test, especially when we did the volume that our dealership does. I saved for 2 years and finally bought a used 2010 Camaro 2SS/RS with 3,000 miles on it. It was probably one of the most accomplished days of my life. 3 years roll by and I am offered a position out on the sales floor. So currently I am working as a Sales Consultant, Certified Technology Expert, and Corvette Specialist.
This is the crappy cell phone picture I took the day I picked up the car.
1991 Camaro RS
This right here is what started my addiction to Camaro's. This was my first car. A 1991 Camaro RS! Awesome ride. A lot of people thought the car was really cool cause of the t-tops. Those t-tops sure were cool, until I was traveling down the highway at 55 mph and the passenger side top sucked off the car. Of course at that point I turned around to go find it and when I did a u turn my back tire fell off the side of a bank and then I got stuck. I then had to back down into a corn field and drive over a bunch of corn staulks sideways up a hill. Oh it was a hell of a ride and by far my most memorable moment with this car.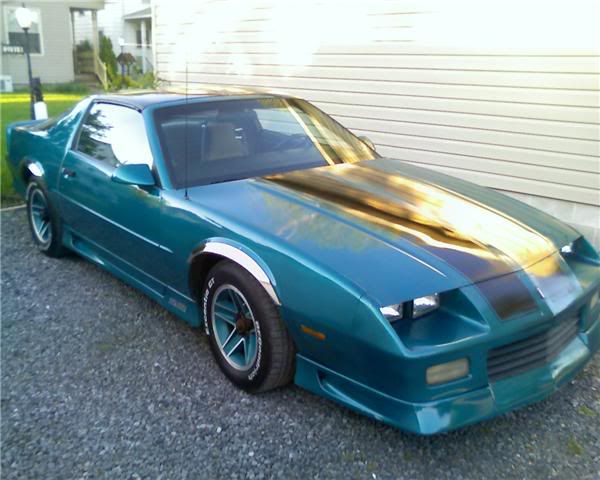 1999 Camaro Y87
The 1991 Camaro had its gremlins. I wanted to get out of it, but I wasnt ready to let my t-tops go. So I sold that Camaro and I bought another one. This was a 1999 Camaro. It was pretty awesome and had so many improvements over the 1991 car it really was something to be excited about it. When driving the car home I was so happy I said to my dad "can you believe a guy like me got a car like this?". We still talk about that quote all the time! This is a picture of her. She was good while she lasted, but the day I bought that Camaro back in 2009 I seen my very first 5th generation Camaro in person! Needless to say I was thinking the 1999 was an improvement! To see a 2010? It blew my mind!
Car Show Awards:
2012
Don Fezell's Car Show - 1st Place
Super 322 Drive-Inn - 2nd Place
Murray Ford - 1st Place
Treasure Lake - 1st Place
St. Marys Airport - 2nd Place
2013
Miller Brothers - 1st Place
DuBois Nursing Home - 2nd Place
Laurel Festival - 1st Place
Nortern Cambria, PA - 2nd Place
Punxsy Ground Hog Festival - 1st Place
Elderton, PA - 1st Place
Curwensville Community Days - 1st Place
Don Fezell's Car Show - 1st Place
Super 322 Drive-Inn - 2nd Place
Murray Ford - 1st Place
Portage, PA - 2nd Place
St. Marys Airport - 1st Place
Treasure Lake, PA - 1st Place
Elderton Fire Department - 2nd Place
Laurel Festival - 1st Place
2014
Breezewood Fire Department - 1st Place
Stocker Chevrolet - 2nd Place - Sponsors Choice Award
Irvona Fire Department - 3rd Place
Falls Creek Miller Brothers - 1st Place
Clearfield County Fair Queen - 1st Place
DuBois Nursing Home - 2nd Place
GM Nationals Carlisle - 2nd Place
Brookville Laurel Festival - 1st Place
Don Fezell's Car Show - 1st Place
Osceola Mills - 2nd Place
Northern Cambria - 2nd Place
322 Drive Inn - 1st Place
2015
Irvona Fire Department - 2nd Place
St. Marys Airport - 1st Place
2016
Clearfield Queens for a Cause - 3rd Place
DuBois Nursing Home - 1st Place