Camaro 45th Anniversary Fender Emblem - Flat Black (black out treatment)
If you are looking to remove that chrome from your 45th Camaro, you might consider changing out your fender emblems. We custom paint these GM emblems in all flat black or flat black color hash marks. You can make your color selection below.
Please allow 5-10 business days for your custom 45th Anniversary Camaro emblems to ship as we pain them to order. 3M tape is built into the back for easy peel and stick installation. Sold per emblem.
Price $57.00 ea. for All Flat Black
Price $61.95 ea. for Flat Black w/color hash marks
Use RPIDON and receive an additional 10% off the price
Website link
http://www.rpidesigns.com/shop/item.aspx?itemid=2911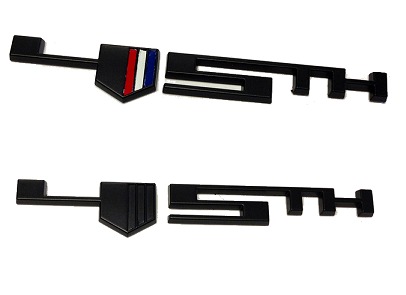 http://www.camaro5.com/forums/image....ine=1369957122
Don Stellhorn Tech/Sales/Customer Service
888-257-8515 ext 2 M-F 9:00 to 5:00 Est. time
donrpidesigns@gmail.com
/
www.rpidesigns.com
Coupon Code : RPIDON for 10% Discount