We wanted to let everyone know that SLP has received their CARB Certification for their 2010-2014 Camaro SS. This will allow you to bolt on power and Great Looks with one Supercharger Kit.
Remember PHASTEK has the Best Prices on all your SLP Parts and Accessories.
Found it Cheaper somewhere else. Let us Know!!
For more Information on the SLP Supercharger Click Here
http://www.phastekperformance.com/20...#ixzz2t7Ripn8z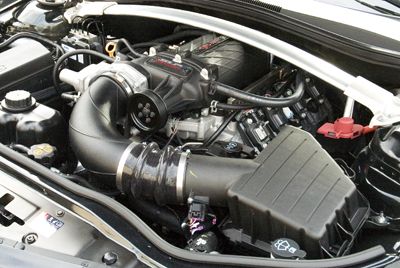 SLP TVS 2300 Supercharger Kit #92000A (575 HP) CARB LEGAL! - fits all 2010, 2011, 2012, 2013 & 2014 Camaro SS/V8 models with LS3/L99 Engines
The SLP all-new Roots-Type Supercharger is now available for the 2010-2013 5th Gen auto and manual transmission V8 Camaro. It features an Eaton® 2300 TVS (Twin Vortices Series) four-lobe rotors with 160° twist, designed for increased power and efficiency. This new black satin finished supercharger provides 575 HP (426 HP Stock) on the LS3 engine with manual transmission and 550 HP (400 HP Stock) on the L99 engine with automatic transmission. This new supercharger assembly includes all the necessary components to complete the installation.
NOTE: Convertible models require permanent removal of front brace for proper fitment of Intercooler.
UNIQUE FEATURES OF SLP'S ALL-NEW 2010-14 V8 CAMARO ROOTS-TYPE SUPERCHARGER:
- Designed from a clean sheet of paper to meet or exceed all OEM design, engineering and manufacturing standards
- Direct drive rotor pack eliminates the need for a jackshaft, extra bearings, extra pulley and rear belt
- Intake manifold ports are port-matched (designed into casting) to the cylinder head ports for greater air flow
- Easiest supercharger installation on the market; installs in less than 6 hours
- Includes plug and play wire harnesses, pre-bent and pre-cut hoses
- New 2 BAR map sensor allows more accurate fuel delivery under boost conditions
- Distinctive SLP outer case design mimics the inner helix design of the rotor pack
- Intercooled with high flow circulating pump and larger capacity coolant reservoir
- Includes new belt tensioner with higher tension and greater travel compared to stock. Eliminates throwing belts even on 427 LS engines with 12 psi of boost
- Higher flow air intake tube and new bellows
- 5-bolt pulley mounting system stronger than 4-bolt system
- Includes hand-held touch-screen programmer with SLP developed and custom PCM calibration
- Most competitively priced TVS supercharger on the market
- SLP's Camaro Supercharger uses Eaton's® TVS 2300 series rotor packs, the same rotor packs used in GM's ZR1 Corvette engine
- Injector bosses cast into manifold at same angle as GM's manifold, providing optimum fuel delivery to the back of the valve for improved combustion and atomization of fuel
- This kit fits all 2010-13 Camaro SS manual and automatic transmission cars
- 3 YEAR/36,000 MILE WARRANTY ON ALL SUPERCHARGER COMPONENTS
- 5 YEAR/100,000 MILE POWERTRAIN WARRANTY AVAILABLE
- CARB LEGAL CARB E.O #: D-187-21