Folks I Took the Camaro to Hennessey Friday for a CAI and a Peak performance tune as well as a tour of the Facilities!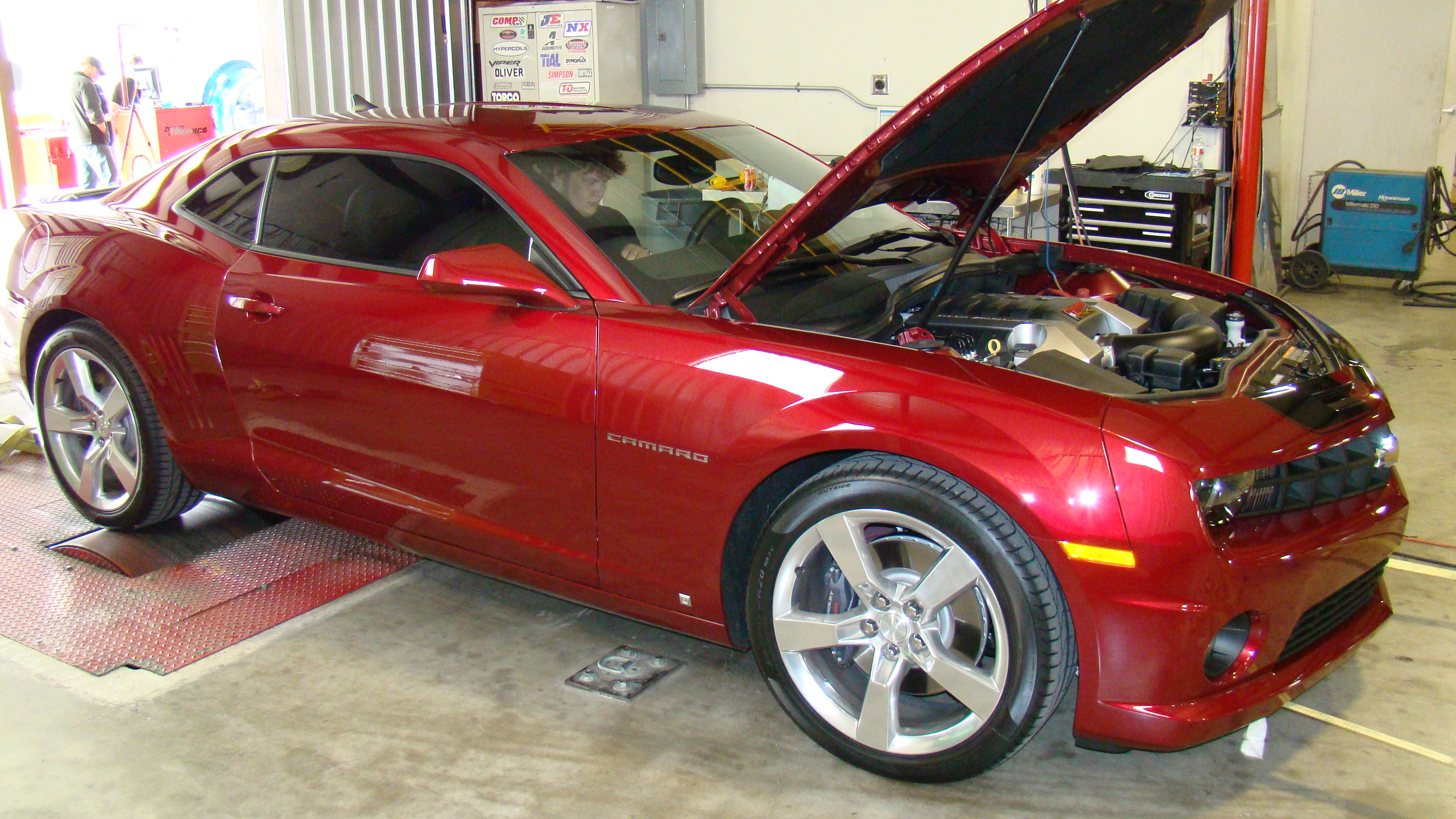 Very Cool place for a gearhead like my self!!! Lots of Super Muscle Cars everywhere...Tons of Camaros. I saw camaros with the engines out of the car and torn down on engine stands that had 4 miles on it... Amazing, They do some amazing work out there and very precise!
Anyway heres how my day went, Got there and gave them the Car and Zach Hill one of the Technicians said let me get it strapped down and then I'll come get you and you can come back in the shop and watch hang out... go explore...Take pics...etc
Zach Ran the Stock pull and was suprised it was making 370 at the rear wheel. He asked what I had done already, When I said nothing He said he has never seen 370 Stock, that ussually it's 355-360 at best, at least here in Houston where its hot and humid... All the techs came over and said wow someone at GM must of been having a good day when they put this one together, He said must have been a Wednesday Car???
Then Mark ( Great Guy - Perfectionist) another Technician did the CAI install and Zach did the final Tune, Adjusted the torque mangement and Got it up to 387 at the Rear wheel, He was very pleased. He said it will be noticeable...YEA to say the least car throws me in the seat instantly... I guess the HP Gain is not where most of the noticeable difference is it's in the Tune, the Torque management changes and the little stuff they do that makes it really noticeable at lower RPM's where we all drive 90% of the time...It's so much fun it should be illegal...Maybe it is.
Anyway driving a 12 second Camaro that is making 450 HP at the Flywheel and gets 24 MPG on the Highway... Amazing to say the least...
just wanted to Share my Dyno: I would Reccomend Hennessey, Top notch super guys and great service! May be a little Pricier than others but sometimes you get what you pay for! They had one of there customer Camaros that was in Washington State there and when it Broke down they went and got the Car brought back and will fix it and send it back Washington.Met the Manger out there Dave Golder, Super Nice Guy! They have some power thirsty folks working at Hennessey and it shows!
They are also in the ground breaking stage of adding a Road Course behind their 1/4 mile dragstrip. They are goning to have driving Schools for all of us novice Gearheads with cool cars!
Enjoy the video:
Later!