Just thought I'd share...
http://my350z.com/forum/shop-builds/...-octane-9.html
For those that don't feel like reading through everything, here is a synopsis of what's going on:
Fall of 2007 I decided to get rid of my JWT setup and go built w/ Greddy TT's. I was referred to a thread created by Mr. Tibbs where he offered a great deal on built blocks, shipped to your door. The plan was to have the block shipped to a local performance shop and get it installed and tuned there while I was away for the holidays. The shop I was dealing with at the time was "The Shop" in Norwalk, CT.
On 12/2007, the block was delivered to "The Shop" and the following day I went on vacation for two weeks. When I got back I was anxious to see how the build had gone and called them. Almost a week passed and I had yet to receive a call back, so I drove there unannounced to check out the build. I was shocked to see my car sitting in the corner of the lot, surrounded by snow, and motorless. I could tell it had been left there for days.
I spoke to Jimmy (the owner) and he tells me that the JT block looked like it was a rebuilt motor and he refused to let my car leave with it installed. Then he shows me the block and I proceed to record a vid (as seen below).
Jimmy calls JT and goes in the other room to have a manager-o-manager chit chat. After all the yelling, Jimmy hands me the phone and I talk to JT about the issue. JT claims that he did not ship the motor in the condition Jimmy described and that he single-handedly built it.
After showing JT the vid, the story changed a bit and it turned into one of his techs screwing up the build and not getting it "cleaned" properly. JT assured me that the block was fine, that it was the strongest running block he had ever built, and that I should just install it. There was also scraps of metal found in the oil pan. When I asked about it, JT told me that he just threw the pan on there, but that it didn't come from the same block.
Okay, at this point you're probably thinking, WHY THE FUK DIDN'T YOU SHIP IT BACK TO JT!? Well, I would have been 100% on "The Shop's" side if it wasn't for the fact that they never returned any of my calls, pulled the motor out before checking the one coming in, AND tried to up sell me on getting my build done there. I also started hearing horror stories about "The Shop", including Randy's nightmare. For all I knew, they could have easily installed the block while I was gone, blown in up, and uninstalled it before I got back from vacation. That would explain why my car was motorless, the unreturned calls, and the refusal to install the block.
At this point I didn't know who to believe, as both shops were pointing fingers at each other. "The Shop" was absolutely no help. They never returned ANY of my calls and were purposely very unhelpful with the entire situation. It was either I pay them to rebuild the motor, or nothing. JT on the other hand offered to pay to get my car shipped to him and assured me that he would take care of everything. At the time all this happened, Performance Factory was doing great and I heard nothing but good feedback from everyone that went to JT. So I, of course decided to accept JT's offer and had my car shipped to him.
"The Shop" was pissed, to say the least. Now I wish I had just returned the block as soon as I received it. Unfortunately, thanks to great marketing and misinformation on the forums, here I stand. :icon22:
For your enjoyment, here is the long-lost tape. And yes, the tear-down vid is worse.
http://v3.tinypic.com/player.swf?file=28iyla8&s=3
Here are a few pictures:
http://projectz33.com/100_0587.JPG
http://projectz33.com/100_0588.JPG
http://projectz33.com/100_0589.JPG
http://projectz33.com/100_0593.JPG
http://projectz33.com/100_0601.JPG
The car was shipped right back with the understanding that JT would take full responsibility for "his tech's error". He led me to believe that everything would be torn apart and rebuilt from scratch.
I didn't get the car back till 8/2008 and the motor blew on 05/2009. That's a total of 9 months and 4,000 miles. The car was not tracked or beaten on. I immediately contact JT regarding the motor and he insisted that I ship the car back to him so that he can fix it. He also mentioned that he didn't want me to bring it to another shop because his competition always tries to point fingers at him. So what did I do? I towed it to VTR...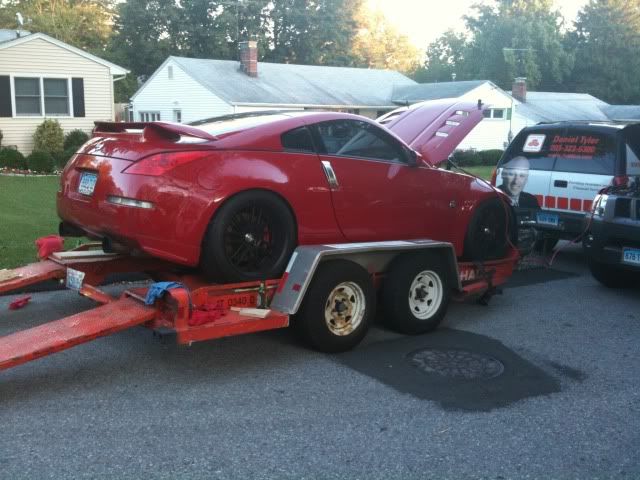 Here is the original invoice that was emailed to me, including a breakdown of what was SUPPOSED to be done:
http://projectz33.com/Est_1214_from_Performance_F.pdf
Here's the link to the teardown vid: http://blip.tv/file/2670987
There's not much I can say at this point other than I'm disgusted. I'm not the only one he has fuked over and definitely won't be the last. It seems like his plan is to move from platform to platform and get away with whatever he can. As soon as sh!t hits the fan, the shop closes, someone's in the hospital, there's been a death in the family, etc... Spread the word as much as you can, as this guy needs to be banished from the industry. Friends don't let friends get scammed by Jeremy Tibbs.
Thanks - Jon