My car is a 1LT (no C&C), I really wanted a leather steering wheel and hoped to get the audio/phone controls to work too (but that's not so simple)
Again forgive my weak iphone pics, but here I present to you:
HOW TO CHANGE STEERING WHEEL
*****DISCLAIMER***** I would suggest you not attempt this if you arent confident in your ability to be strong but delicate and confident in dismantling autos.. ++Dont be cheap, you could break a part that is a) impossible to get, and b) not super cheap. A Dealer shouldnt charge you more than 1 -1/2 hours labor for this++++ I'll share my horror story at the end.
Release the airbag. (this is by far the trickiest part)
on the right and left sides of the steering wheel there are two small holes.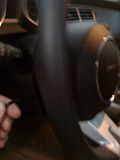 Find a strong tool that will fit through those holes, I recommend an allen wrench, I used a strong vinyl coated wire hanger.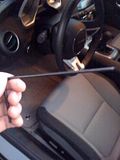 Starting on the right side push the tool through the hole till you fell it catch on a spring that you can move. (There are no pics this all happens in a place where I can't show, sorry) The feeling of pushing this spring with your tool is unique (lol, really where is my mind) You will know when you are pushing it. While pushing the spring pull gently on the airbag......gently.......GENTLY (but strong) releasing the right side plastic clip on the bag.
Switch to the left side and repeat the process
There is a Yellow Y Cable that connects to the back of the bag.
This cable is less than a foot long so pulling too hard while releasing the bag could cause you to destroy the clockspring which is the main control center of your steering wheel electronics. Be careful and you'll be OK
release the two clips from the back of the airbag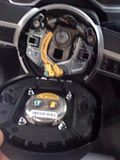 Put the airbag aside in a safe place.
Using a Torx47 ratchet release the center bolt from the wheel. Pull the clip for the steering wheel electronics
, and the wheel will pull right off the steering column, no puller neccesary.
carefully feed the airbag wires back out of the wheel as you pull it off.
Here's a great a view of the removed wheel exposing the delicate clockspring
repeat the process in reverse and everything should snap back right into place