First, let me send out a HUGE "thank you" to Patrick from Vararam for bringing me over to Houston today to do some "testing" of production units and other prototype units. I honestly had NO idea just how much thought went into the construction of the intake, the type of filter to be used, positioning of the MAF sensor, etc, etc, etc (lots that go into this!). Along with that, a HUGE "thank you" needs to go out to the guys over at England Green Racing (Jason and Stephen) for hosting our testing time on their BAD @SS dyno in a GREAT shop! THIS is the type of dyno I have been yearning for since the install of the Stainless Works exhaust system. Land/Sea correcting dyno that puts out SOLID numbers......not like the first crazy "STOCK" 406rwhp #'s I got when having my exhaust put on with a Mustang dyno.
Now...onto the good stuff to try to make this short and sweet....I'm freakin' tired and was falling asleep on the couch....so. Questions will be answered tomorrow when I'm awake and have a bit more time...
Left the house at 8am and got to England Green (Houston, TX) at 11am where I met Stephen and Jason (owners of England Green), a few more guys from the shop (forgive me for not remembering names...ugh...I'm sorry and suck at this) and Patrick from Vararam. We immediately pulled the car in and strapped it down to the dyno.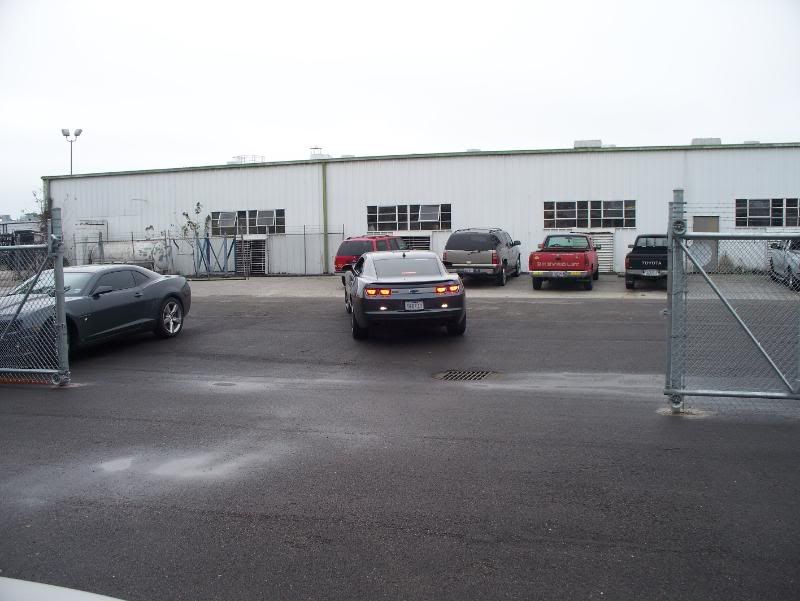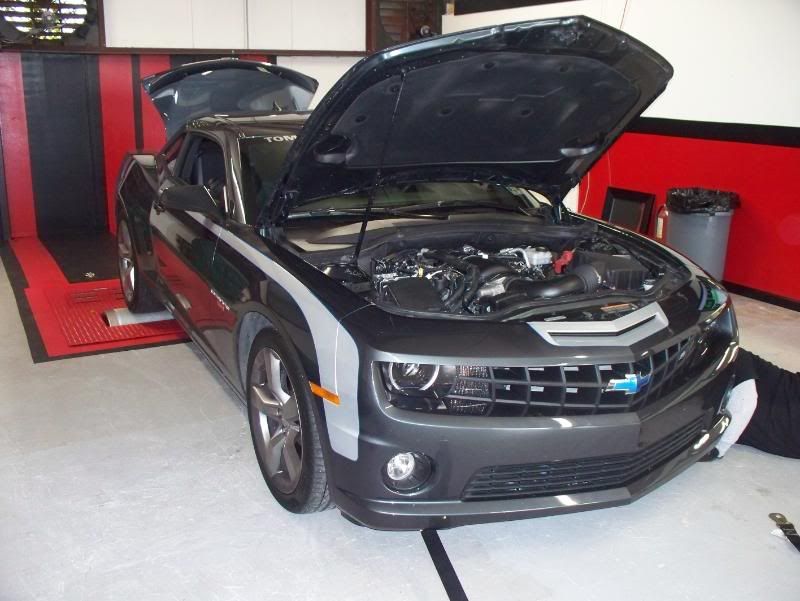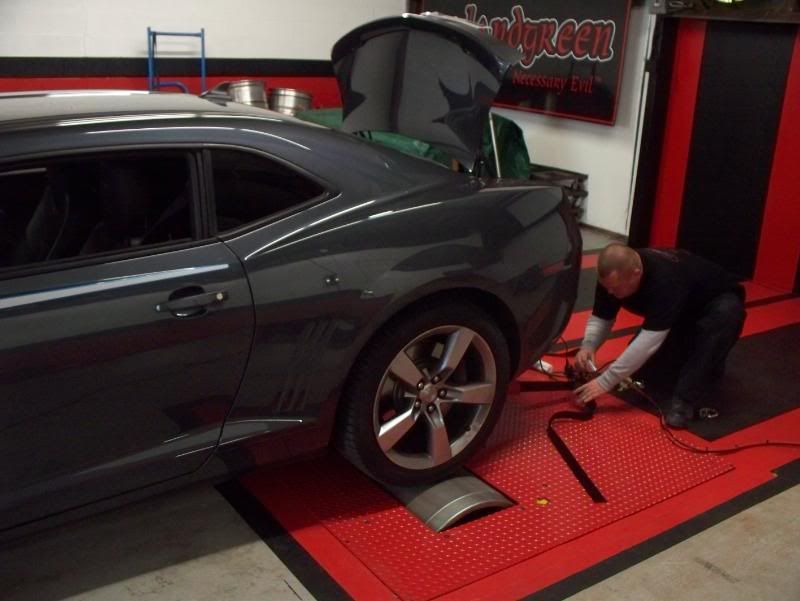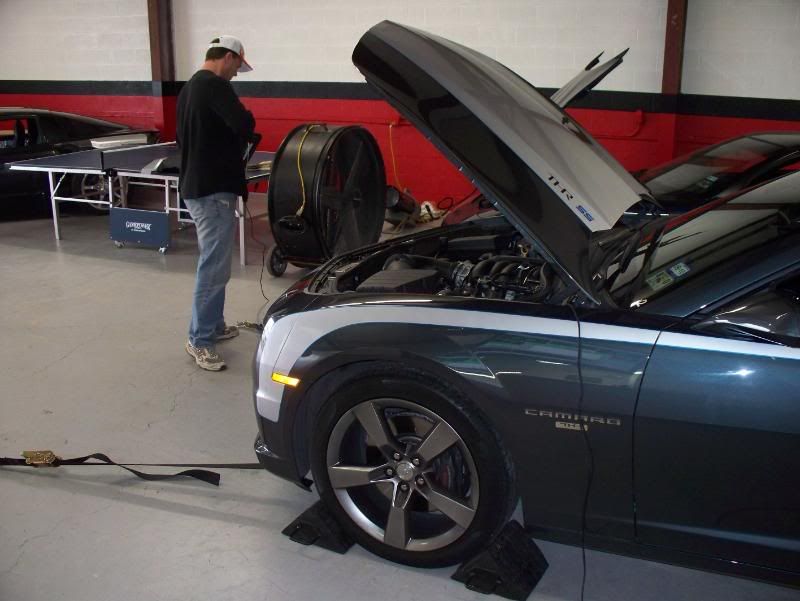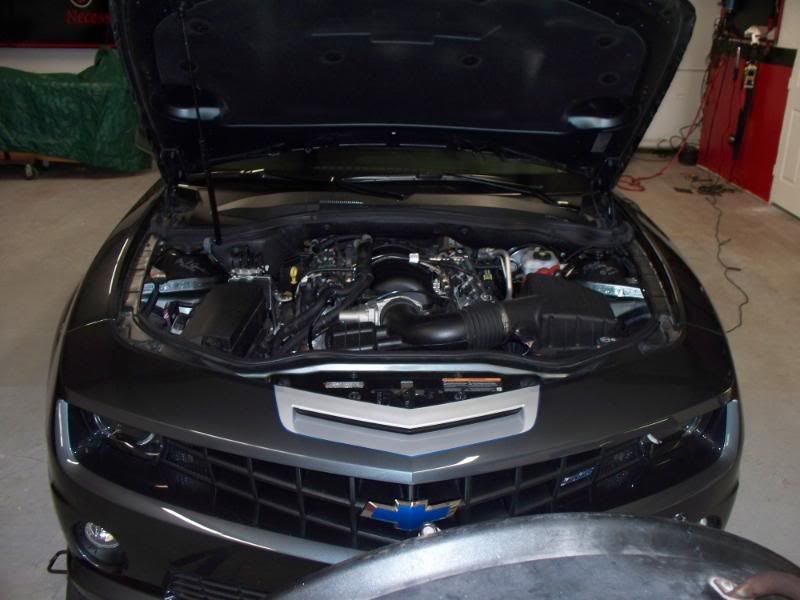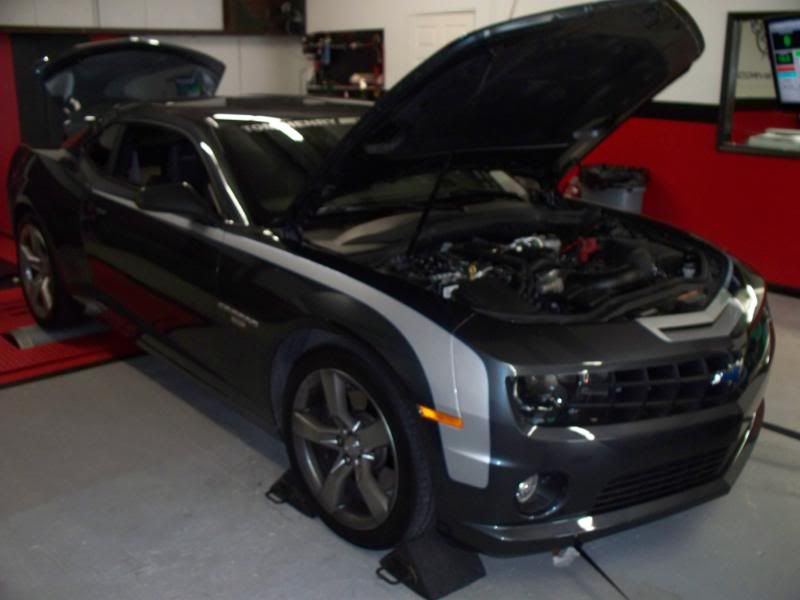 The first two runs were done with my current exhaust set up. This includes a complete Tom Henry exhaust system built by Stainless Works and includes long tube headers w/ 2" primaries, high flow cats, x-pipe, 3" pipes, chambered mufflers.
THERE IS NO TUNE ON THIS CAR.
1st Pull
393.3tq
388.1hp
11.67AFR
2nd Pull
384.5tq
385.3hp
11.71AFR
Then, we added a production Vararam unit and ran it on the dyno. The air filter size was 2.75 inches and did not perform as well as the 3". Therefore, Patrick, on the spot, decided that stock auto V8's got 2 3/4" filters and manuals are going to need 3" filters. Really, so much that goes into this...and decisions upon final production pieces are still being made.
We did several test and tune runs with different units changing the positioning of the MAF, different size air filters, etc. I'll skip those videos and move on the end results...
Lots of stuff going on....
But...
6th Pull:
421.7tq
413.5hp
12.3AFR
Proof....do the math...for those that don't believe...

28.4tq increase
25.4hp increase
ON THIS RUN...the #'s we gave out earlier and on the graph were on the final run.
YOWZA....

7th Run:
415.5tq
409.6hp
12.16AFR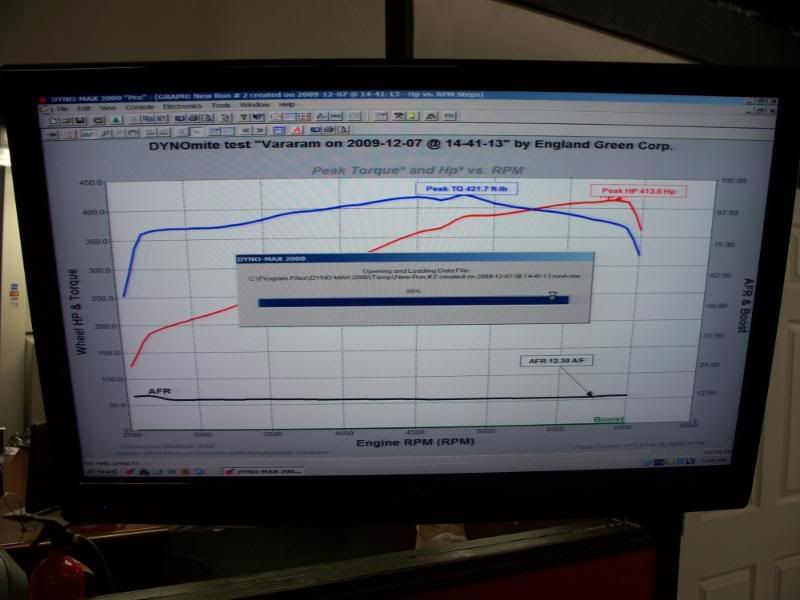 The car
NEVER
left the dyno...it was raining and was 60 degrees...nasty driving weather...(although the plan was to drive it, we decided not to). We left it on the dyno the
ENTIRE
day out there. So, NO learning curve for any of this. Just straight up old intake from GM (which really isn't that bad at all) to the Vararam unit that put out these numbers.
A few intakes have been shipped out. Auto stock car units are done. They should be getting 2.75 inch filters...and they LOOK GREAT! I got to hold the production unit and it really is impressive. You guys are going to love it.
V8 manual cars get the 3" filter...as was decided today by the numbers put out by my car. Also, depending on your application (mods wise...exhaust, etc), you might need the 3" for the auto car. See...there is just so much that goes into this. You can't just take a 2.75 inch filter and toss it on a car with long tubes when a 3" filter gives you 10 more hp...or even more (as shown today). All this testing is being done to give YOU the BEST possible CAI for YOUR application...not a general run of the mill, "everybody gets the same unit to save ourselves on production costs". Nope... From what I understood, there will be two versions for the V8 Camaros now. I'm going to head back up there in a week or two as we are going to toss it BACK on the dyno again with the production unit and 3" filter (using a test unit right now that was bonded by Patrick, not by Green Filters). This unit should put out (after some repositioning with the MAF) another 7tq and 5hp. Yep...that's right.
But, we'll get those numbers then.
I hope I was able to answer some questions this far...I'm trying to remember everything that was asked this far and get it all done. No tune on the car...OH! The TRUE "ram air effect" will give the car about a half to 3 quarters of a point more in AFR...bringing it from a good 12.3 to close to a 13.0 bringing even MORE hp that what is being shown on the dyno. Correct...the dyno numbers show GOOD numbers....but not TRUE numbers of the ram air intake. Yeah...it's just getting better...

Once the final production figures are found for the V8's (and it sounds like he's got it wrapped up now), he's going to start on V6 units.
The website IS complete. They are proof reading the information and have a few grammatical errors they are fixing as well as editing a video or two. There are PAGES of information on this car...videos, dynos, numbers, AFR numbers, ETC ETC ETC!!! There was NO stone left unturned. Yes...I saw the site info with my own two eyes...lol. It's there. It'll be up shortly, I'm sure. But, "ok" simply does not cut it for Patrick (as I found out ..

). He really does expect perfection.

Ok...I can't remember anything else right now... Again, I hope this info answers some questions. Have fun and enjoy the #'s.