UPDATED: 9/19/2012
Stock resonator delete video added.
UPDATED: 7/31/2011
A few drive by videos added...this is with Vararam intake which adds some decent growl over the previous AirRaid. Video at bottom of post.
(5-11-2010 - added in cabin video)
OK, so for those that don't know, I've been deliberating over what exhaust setup to get for a very long time. So much so that I put together the V6 exhaust sticky thread on the home page of this V6 section. Watching all those videos and reading every thread made it worse on me.
So without boring you all on why I made the decision I did, I finally went with a custom magnaflow setup. Mufflers (# 11235), a resonated X-pipe (# 11385), and 4" double walled tips (# 35177). The X may not have been needed, but I wanted to do all I could to avoid as much drone and rasp as possible, and I think I've accomplished that goal.
I'm very happy with my new sounds, and with only about 100 miles on them now, they should hopefully get a tad better over time. This system has a really nice low, smooth tone from initial RPMs through the 3500 RPM range...and from there the highs of the V6 start comming through again, but still not like stock and there is barely any rasp during reving...dare I say no rasp under a load. In cabin sounds wonderful (v8-like) and I experienced almost no drone. Only a few times during my hour trip home did I experience what I consider to be a little drone, around the 71 - 73 MPH speeds, but its not bad and didn't seem to be consistent. Again, this could change over time. Its not real loud, which is what I wanted, but noticeable over stock. My ONLY negative (well, cant really say its a negative) is that I was thinking I'd get a bit more burble/snarl/growl in the upper rpms, but its just smooth. Wouldn't mind a bit more rumble.
In the end I feel I got a system equal to, or very near the cat-back kit Magnaflow offers, for 4 to 5 hundred less than retail. I have to give a shout out to Rods muffler shop in Union Missouri for doing a quality job at a great price, not to mention being friendly people. They'd copy my setup for around $650. Subtract the X and your looking at closer to $500 - $550. (get cheaper tips than I did and that'd help to lol)
Check out some install pics and a youtube video below. As always, sound is always better in person, but if you happen to have a nice PC sound system, or good headphones this isn't bad. Thanks to everyone, cause honestly lots of people helped me out with what I wanted.
H-pipe removed:
resonated X in:
Installed from below: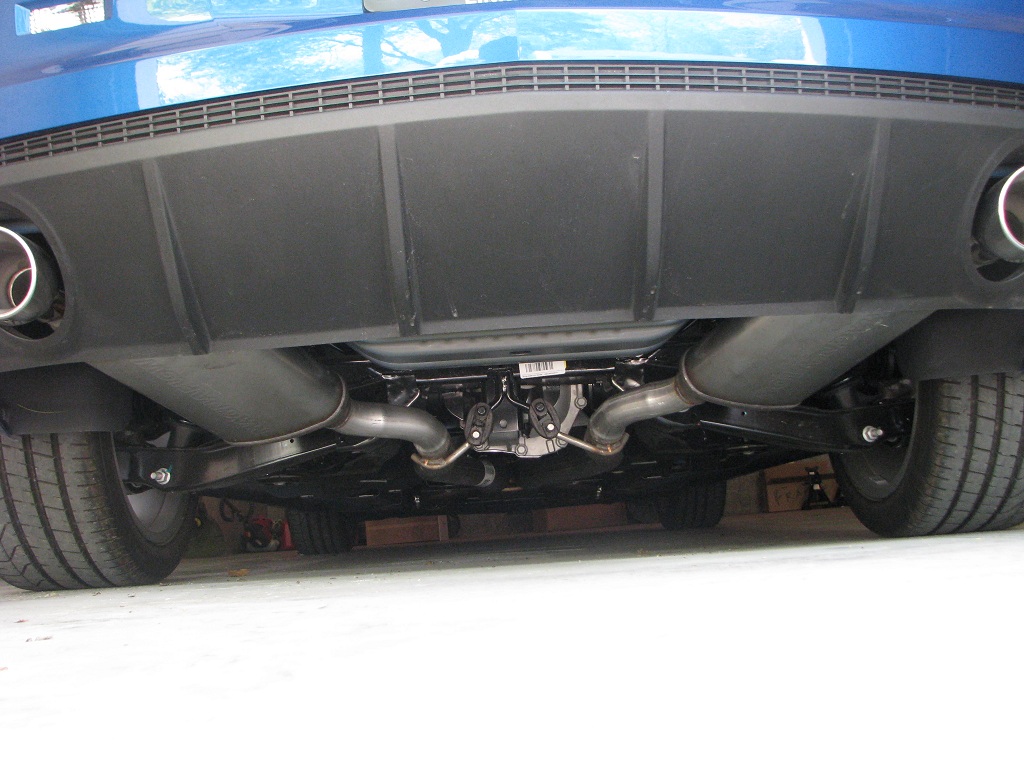 Out back:
Added: 5-11-2010. In Cabin video. Think this turned out pretty good. Gives ya a nice idea of the sounds, cept for two differences I've noticed. If you have a good PC sound system (with woofer) or headphones you may notice a couple spots that sound a bit "boomy" at times...that tone is there in real life, but I think the mic amplified it a bit. The other thing is that it didn't seem to pick up the sound as good as I'd hoped over 3,000 + rpms, but oh wells, what can ya do!
A take off and a couple drive by videos. Fairly hard take off, then light to medium throttle drive by, and finally a hard drive by...but I had to let off way before I wanted so it didn't turn out like I had orginally planned. Oh wells...hopefully have more sometime. This one is with the Vararam intake installed which has added a nice amount of growl over the AirRaid. Thinking about changing up the exhaust a bit for more sound/growl but I wanted to take this video first!
New video added with resonators deleted:
Not quite the change I was hoping for....it really didn't do much at all but there are some minor differences. Basically just a TAD more growl, but I also think it added a tiny bit more drone unfortunately...