Thought you guys would enjoy these videos we shot at the SEMA Media Conf yesterday on GM's New Camaro Concepts.
Each video is about 3-5 minutes long.. the concepts are INCREDIBLE in person!

LS7 Camaro Video at SEMA
Project Black Video
Dale Earndardt Jr. Camaro SEMA Video
We also posted a pretty large article and photo gallery.
Here's the link but I'll also paste the GS Race car stuff below. (there's a ton of other stuff also)
I tried to post the videos in this thread, but the forum doesn't accept HTML. Perhaps a moderator could post the embed codes.
Camaro GS Racecar Concept
Click Here for Full Gallery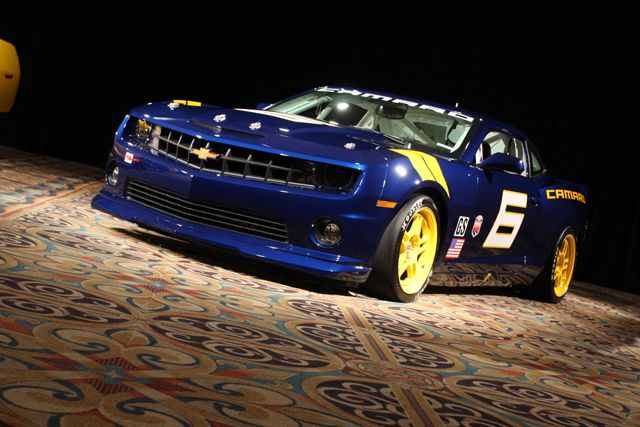 Mark Donodue's iconic Trans Am blue-and-yellow Camaro was re born today under the soul of 2010 Camaro. Donodue was a dominant racer in his #6 1969 model Camaro to the series championship during that year. The Koni Challenge series sees a variance of cars including BMWs to Acuras. The Challenge series will become more diversified with the induction of the 2010 Camaro.
Developing the GS-Concept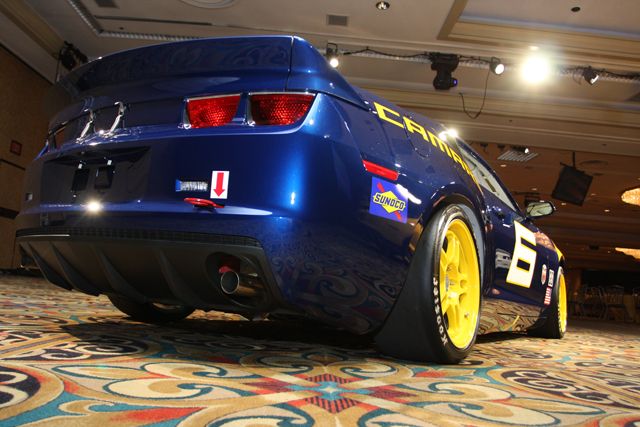 GM's High Performance Vehicle Operations and North Carolina based Riley Technologies, teamed up to recreate this tribute car that is a competition ready and tested. Riley Technologies will take a body-in-white Camaro and build you a competition ready car for the 2009 Koni Challenge Series. Visually, the car looks rather tame, but there is much more under the skin that you don't see.
Racing Features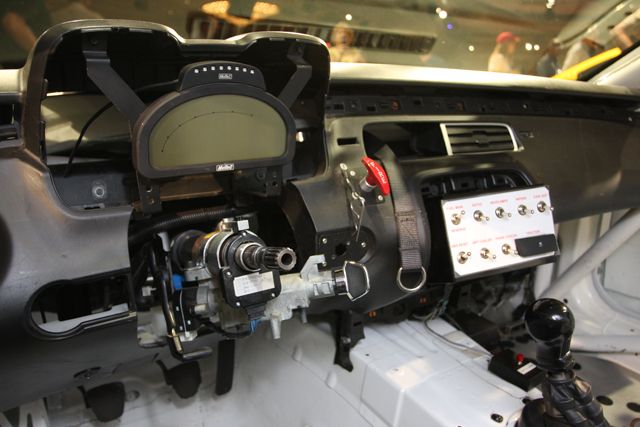 The GS-Concept comes with a race-ready suspension, reinforced chassis and drivetrain to meet increasingly strict certification that the series demands.
The GS at the show, has already logged many hours at the track to help dial in the chassis for future customers. It came in with grime and brake dust hidden in the un-suspecting (and obvious) locations, though from the outside, it boasts a virtually perfect image. GM's director of performance, Tom Peters commented, "It's a bona-fide, genuine campaign that's coming from Europe. When you look at it, down to the detail, it's still a true Camaro." The chassis comes seam-welded with carbon fiber trunk lid, doors, and fenders. The other funny part is the traction control button on the switch panel.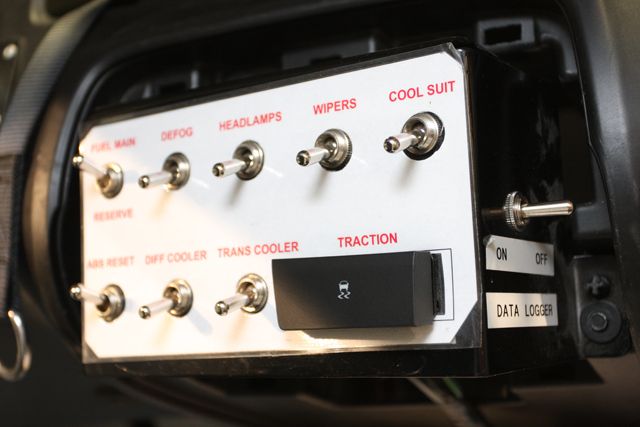 The engine is still a production LS3 with solid engine mounts and backed by a Tremec 6060 six-speed transmission with close ratio gearing. Cooling comes from a C&R racing aluminum radiator, accompanied by transmission and differential coolers. Slap a stock set of wheels on the car without graphics, and the only way you can tell the difference versus a production Camaro on the outside, are the exterior latches and tow hooks. Keep an eye out next year, as the GS-Concept Camaro will be fighting amongst the competition.
• Seam-welded production Camaro body-in-white
• Carbon fiber hood, trunk lid, doors, fenders
• Production LS3 V8 engine (used with solid engine mounts)
• Tremec 6060 six-speed manual transmission with close-ratio gearing
• Three-inch exhaust system with Coast Fab mufflers
• C&R racing aluminum radiator
• Upgraded engine cooler
• Transmission and differential coolers