Here are some common mistakes that someone new to polishing with a dual action or random orbital polisher, they are moving too quickly across the paint, not using enough pressure on the machine, using too much polish, or polishing a section too quickly.
One's Arms Speed
- Because both a Dual Action and a Random Orbital Polisher deliver most of the their cutting power from the oscillating movement of the pad, they always require slow arm speed to allow the abrasives in the compound / polish to work against the paint. Too often some novices will move the machine far too quickly. With a Dual Action such as the Flex DA, move the pad about 2-3 inches per second. With a Random Orbital Polisher such as a Porter Cable 7242XP or Meguiar's G110v2 1 inch per second is a little better.
One's Pressure
- Again the Dual Action and Random Orbital Polisher require down force to get the best results ones looking for and the most even cut. The weight over either machine applies about 5-6 lbs of down force on the head. With the Flex DA, adding an additional 5-10lbs of pressure will increase the action of the machine, but it will make the Flex move / work easier to control. The Porter Cable requires an additional 10 to 15 lbs of pressure to get maximum benefit of it's use. If you are not sure how hard you are pressing use a bathroom scale and press down. 10-15 lbs of total pressure for the Flex and about 5-6 lbs more for a Porter Cable 7242XP or Meguiar's G
110v2 machine.

The Right Of Polish Amount
: Always draw two lines across the pad to begin and about half that for additional sections. Adding too much polish will decrease the cut of the polish, weight down the machine, and make residue removal difficult. Clean the pad by brushing after every couple of 2 x 2 sections. Over time the pad will begin to become too saturated, at this point switch to a fresh pad. It can take 3-6 pads to properly remove swirl marks, and an additional 2-3 pads for final polishing.
The Amount Of Polishing Time for a 2 x 2 Area
- An 24" x 24" square is generally the ideal size to polish per application. Too large a section requires additional polish on the pad for coverage, decreasing your efficiency, and makes it more difficult make sure all areas have been polished property. When you polish you should work in overlapping strokes, by about 1/3 to 1/2. With slow arm speed, and a six inch pad (over lapping passes by 1/3-1/2) it will take 6-7 strokes to cover the entire polishing section. So starting in the upper right corner and moving left, make one stroke across the paint, then make second stroke from left to right, overlapping the pass about 1/3-1/2. After about 6-7 strokes you should have covered the entire section (one pass). Now make a pass (a series of strokes covering the same section) moving up and down, creating a cross hatch pattern. The goal in uniform material removal. Repeat the horizontal and vertical passes one more time, then make a third pass over the paint in both directions reducing the pressure and moving with a slightly quicker arm speed. To recap this, the paint has been completely washed and clayed. All trim and edges have been taped, and the car is inside or in shade and the paint is cool to the touch. The pad has been wipe down with your QD and a line has been drawn across the pad with M205.
Now place the machine on the paint and drape the power cord over your shoulder to keep it from rubbing on the paint. The Flex DA has a speed dial that sets maximum power and a variable trigger which allows for percentages of the maximum to be controlled. For beginners a speed in the 3-4 range is OK. But as you grow more comfortable with your new machine you may want more power and find yourself polishing in the 5 or 6 ranges.
Get a comfortable grip on the bail handle and the trigger handle and squeeze the trigger half way with the pad flat on the paint. Quickly spread the paint over the section to be polished, then press the trigger completely and remember to press down with an additional 5-10 lbs of pressure.
Always work in slow, overlapping strokes, from the left to right and right to left, until the entire section has been polished. This is one pass. Now make a pass using up and down motions, steady pressure and slow arm speed. Focus on keeping even pressure and keeping the pad flat and moving slow, once you are back to your starting position, repeat the horizontal pass and vertical pass, again with overlapping strokes and slow arm speed. The film of polish on the paint should be begin to clear during these repeating passes. Now reduce pressure and increase arm speed, going over the section with two more passes (for a total of three in each direction).
Note: A stroke is a movement from left to right, right to left, up to down, or down to up. A series of overlapping strokes that covers the entire section is known as a pass. Here is an illustrated picture of a pass, comprised of overlapping strokes from left to right and right to left.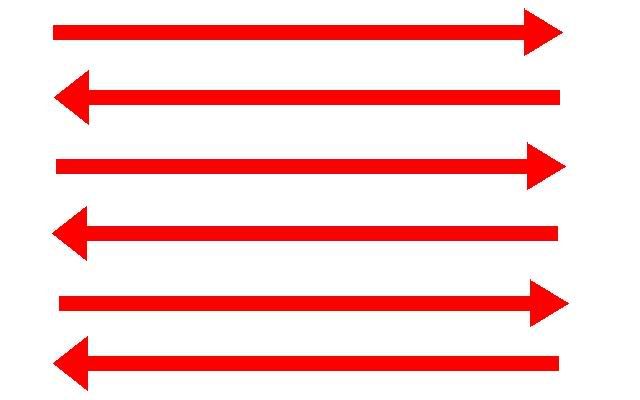 To ensure uniform material removal, make the second pass in vertical motions. The cross hatching effect will make sure that area of the section is polished uniformaly. Here the second pass is going up and down.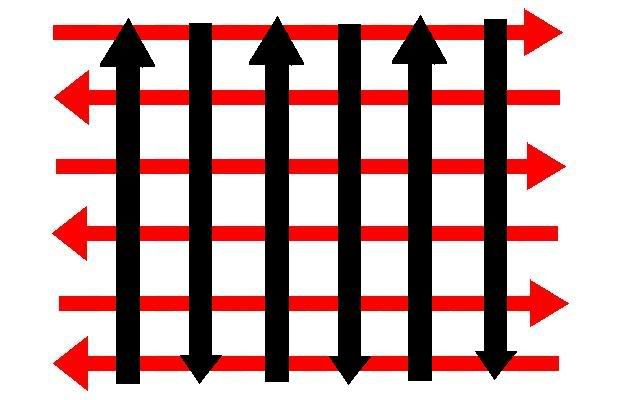 Please
never
polish dry your paint. Always make sure a wet film remains on the paint to provide the pad from scouring the surface. Remove the residual film immediately with a clean microfiber polishing towel from the
Autopia Car Care Store
. Inspect the test section in direct sunlight and check to see if you got the results you where after.
Attach the pad and prime the same as above. Using the same application techniques for M205 repeat with M105. Remove the residue and once again inspect the section in sun light. Very deep swirl marks may require several applications with M105 and the Cyan Pad, and while it is possible to go more aggressive. Keep in mind that the finish left behind from the M105 and Power Pad my have very fine swirl marks know as micro-swirls or micro-marring. Following with M205 and Crimson pad will remove the residual marring and help create that flawless shine.
Once you dial in your way on the test section on your paint, simply repeat the process over the entire car, taking your time before each application on each section to make sure you are focusing on your technique and keep your pads clean. Trying to move too quickly will often result in the process taking more time. Some people like to polish an area of their car at a time, such as the hood, then the fender, then the door, etc. Other people like to polish the entire car with a process and section at time. Such as polishing section by section with M105 over the entire car, then repeating if necessary, followed by final polishing the entire car a section at a time with M205. The exact way you do it is going to depend on your personal preference.
Remember to keep the basics in mind and always work clean. Use a clean microfiber towel to remove residue immediately after polishing a section before moving to an adjacent section. If the section you are about to polish has dust on it from residual, wipe clean with a spray of QD and a clean microfiber cloth.
After Care From Polishing.
So you have spent the day or weekend perfecting your paint, so what's next? There will likely be polishing dust in the cracks, crevices, and trim pieces, so begin by washing the car. First removal all of the masking tape, then wash and dry carefully, being certain not to install any new swirl marks or scratches. After drying you will want to add a couple coats of wax or sealant to protect the paint and keep it looking its best. Selecting a wax or sealant is one's personal choice, although I have found this kit works perfect for me, I like using the
"]Blackfire Wet Ice over Fire kit"
, but use what you like.
After the paint is swirl free and with proper washing techniques and frequent LSP's will keep it looking its best. Over time some light marring might appear. However this type of marring will often be so shallow that it can be quickly removed with just a final polish. We hope this write up helps our new members who are very interested in polishing their ride's paint.