05 Jul, 2011
2012 Camaro Pricing Released
Posted by: admin In: Main ()
The full pricing (base and options/package pricing) for the 2012 Chevy Camaro has been released! See the full price list inside.
The MSRP list price will range from $23,200 for the Camaro LS to $40,600 for the Camaro Convertible 2SS.
The 2012 model year Camaro will begin production on July 18th and appear at dealers approximately 6-8 weeks after production begins. Also be sure to refer to the 2012 Camaro online order guide for help on spec'ing out your orders.
Read more on this story at the following LINK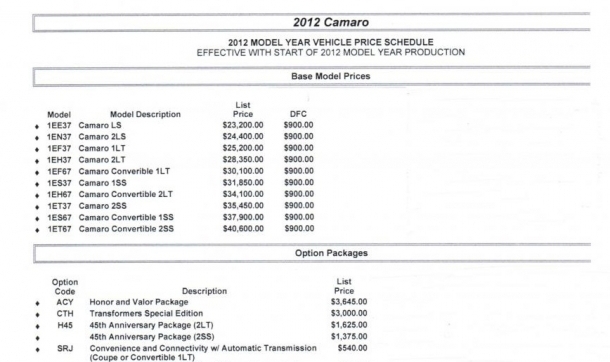 Tags:
2012 camaro
,
2012 camaro forum
,
2012 camaro price
,
2012 camaro prices
,
2012 camaro pricing
,
2012 chevrolet camaro
,
2012 chevrolet camaro price
,
2012 chevrolet camaro prices
,
2012 chevrolet camaro pricing
,
2012 chevy camaro
,
2012 chevy camaro price
,
2012 chevy camaro prices
,
2012 chevy camaro pricing
,
2013 camaro
,
2013 camaro forum
,
2013 chevrolet camaro
,
2013 chevy camaro
,
new 2012 camaro