29 Sep, 2014
2016 Camaro drops some camouflage near the Nurburgring!
Posted by: admin In: Main ()
The next generation Chevrolet Camaro has been spied a couple of times in the US already. Today we caught the first prototype testing in Europe near the Nurburgring where it was caught in much less disguise [see all photos]. This all-new Camaro has dropped the previous black heavy camouflage and just appears in black and white camo.
Keep in mind that there is likely still fake paneling as part of the camouflage. For example, the shape of the headlights and tail lights still remain very obscured (unlikely to be small circular shapes as shown).
The front headlight camouflage reminds us of the 5th generation Camaro prototype headlights
View all the spy photos at the following LINK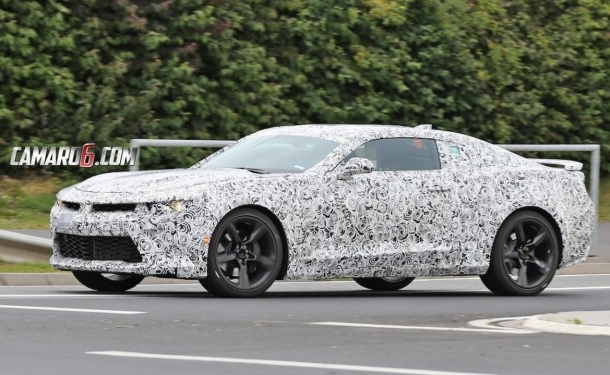 Tags:
2016 camaro
,
2016 camaro forum
,
2016 camaro forums
,
2016 camaro spy
,
2016 camaro spy photo
,
2016 camaro spy photos
,
2016 camaro spy pics
,
2016 chevrolet camaro
,
2016 chevy camaro
,
2017 camaro
,
2017 chevy camaro
,
6 gen camaro
,
6th gen camaro
,
6th gen camaro forum
,
6th gen camaro forums
,
6th gen camaro info
,
6th gen camaro news
,
6th gen camaro rumors
,
6th gen chevrolet camaro
,
6th gen chevy camaro
,
6th gen chevy camaro forum
,
6th generation camaro
,
6th generation camaro info
,
6th generation camaro news
,
6th generation camaro rumors
,
6th generation chevy camaro
,
camaro 6th gen
,
camaro 6th generation