15 Feb, 2015
2016 Chevy Camaro body (side) panel revealed?!
Posted by: admin In: Main ()
Well lookie here… at the first uncovered part of the 2016 Camaro's body. Seen in a die for the upcoming Camaro is what appears to be the side body panel of the 6th gen Camaro!
We now have our first clear uncamouflaged look at the roofline, rear fender, and rear quarter window shape!
Compared to the current Camaro, we can see that the roofline features a more tapered angle towards the rear of the car and the distance between the rear quarter window and the fender line has been increased. The wide sexy shoulders of the current design remain.
Check out the image at the following LINK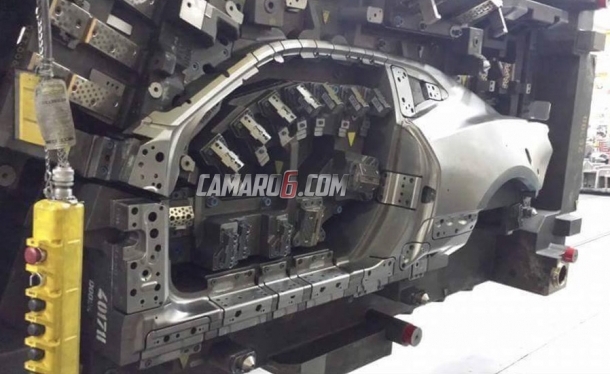 Tags:
2016 camaro
,
2016 camaro forum
,
2016 camaro forums
,
2016 camaro spy
,
2016 camaro spy photo
,
2016 camaro spy photos
,
2016 camaro spy pics
,
2016 chevrolet camaro
,
2016 chevy camaro
,
2017 camaro
,
2017 chevy camaro
,
6 gen camaro
,
6th gen camaro
,
6th gen camaro forum
,
6th gen camaro forums
,
6th gen camaro info
,
6th gen camaro news
,
6th gen camaro rumors
,
6th gen chevrolet camaro
,
6th gen chevy camaro
,
6th gen chevy camaro forum
,
6th generation camaro
,
6th generation camaro info
,
6th generation camaro news
,
6th generation camaro rumors
,
6th generation chevy camaro
,
camaro 6th gen
,
camaro 6th generation