14 Apr, 2012
Modified ZL1 (Lingenfelter) Runs 11.03 sec @ 130mph Quarter Mile
Posted by: admin In: Main ()
ZL1 deliveries have only begun recently, but we've already been given a taste of what a lightly modified ZL1 can run at the track.
Lingenfelter has wasted no time in modifying their ZL1s and they brought their red ZL1 (they also own a yellow ZL1) to Milan Dragway in Milan, Michigan for some runs.
With a supercharger pulley swap, reflashed ECU, 160 degree thermostat and LPE ported and polished air inatke with K&N filter, and skinnier tires front / Nitto NT05R drag radials back, this ZL1 was able to run 11.03 seconds @ 130mph in the quarter mile; nearly breaking into the 10′s.
Dyno graphs, details, and discussions INSIDE.
Read more on this story at the following LINK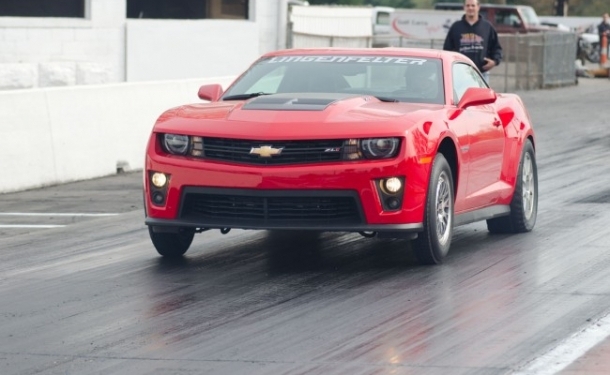 Tags:
2012 camaro zl1
,
2012 camaro zl1 quarter mile
,
2012 zl1
,
2012 zl1 1/4 mile
,
2012 zl1 quarter mile
,
2013 camaro zl1
,
2013 camaro zl1 quarter mile
,
2013 zl1
,
2013 zl1 1/4 mile
,
2013 zl1 quarter mile
,
camaro z1l dyno
,
camaro zl1 1/4 mile
,
camaro zl1 dyno figures
,
camaro zl1 dyno numbers
,
camaro zl1 dyno results
,
camaro zl1 dyno video
,
camaro zl1 forum
,
camaro zl1 forums
,
camaro zl1 quarter mile
,
camaro zl1 quarter mile time
,
lingenfelter camaro zl1
,
lingenfelter zl1
,
zl1 1/4 mile
,
zl1 dyno
,
zl1 dyno figures
,
zl1 dyno numbers
,
zl1 dyno video
,
zl1 forum
,
zl1 forums
,
zl1 quarter mile
,
zl1 quarter mile time