25 Jul, 2010
Transformers 3 Bumblebee Camaro. Latest Photos/Videos.
Posted by: admin In: Main ()
Transformers 3 is currently shooting in downtown Chicago and that means lots of potential to spot the third iteration of the Bumblebee Camaro. Here are the best photos yet of the latest Bumblebee Camaro on set.
The slickest Bumblebee Camaro yet features a refreshed front fascia design with front splitter, revised hood cowl, broad stripes which extend from the hood all the way back to the trunk, sleek blacked out mirrors, rear quarter fender with single open inlet, high rear wing spoiler, revised rear bumper with quad exhaust tips sitting flush to rear lower bumper.
Pay close attention to these design elements as it's been hinted that some of the elements give a good idea as to the fifth generation Camaro Z28 [just spotted HERE].
See all the Transformer 3 Bumblebee Camaro photos and videos at the following LINK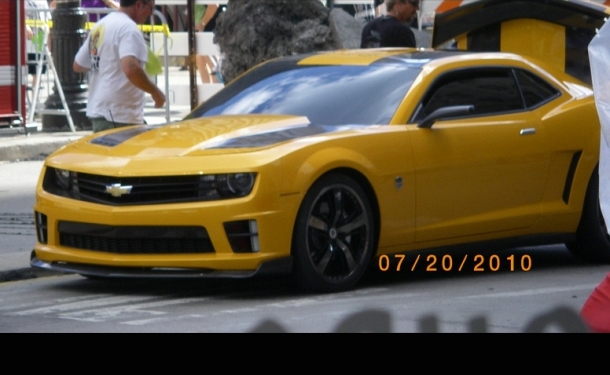 Tags:
2012 camaro z-28
,
2012 camaro z28
,
2012 z-28
,
2012 z28
,
2013 camaro z-28
,
2013 camaro z28
,
bumblebee camaro
,
camaro z28 forum
,
new bumblebee camaro
,
new camaro z-28
,
new camaro z28
,
new camaro z28 forum
,
new z-28
,
new z28
,
new z28 forum
,
tf3
,
tf3 bumblebee camaro
,
tf3 camaro
,
transformers 3
,
transformers 3 bumblebee camaro
,
transformers 3 camaro
,
transformers camaro
,
z28 forum