27 Feb, 2012
Video: Camaro ZL1 Runs VIR in 2:52:38. Faster than Z06, GT-R, GT3 RS!
Posted by: admin In: Main ()
Chevy is currently holding a Camaro ZL1 media event at the Virginia International Raceway (VIR) and to mark the occassion Chevy has released this video of the Camaro ZL1 lapping the VIR in just 2:52:38!
To give you some perspective of how fast this laptime is – it's faster than a Corvette Z06, Nissan GT-R, Lamborghini Mucielago LP670-4, Ferrari 430 Scuderia, Porsche 311 GT3 RS. How's that for fast!
Our own moderator, Dragoneye, is currently attending the ZL1 event, so be sure to check back for plenty of ZL1 coverage!
View the ZL1 VIR lap at the following LINK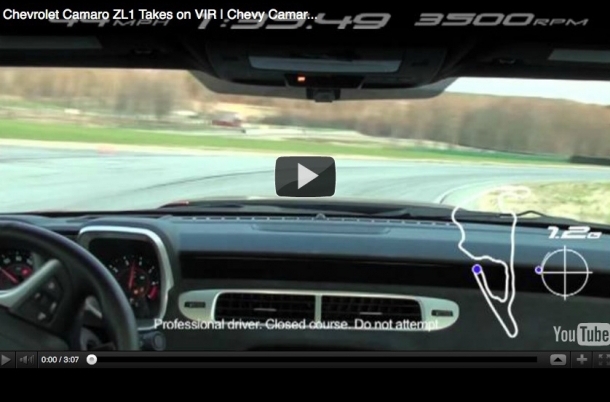 Tags:
2012 camaro zl1
,
2012 zl1
,
2013 camaro zl1
,
2013 zl1
,
camaro zl1
,
camaro zl1 forum
,
camaro zl1 forums
,
camaro zl1 info
,
camaro zl1 video
,
camaro zl1 videos
,
camaro zl1 vir
,
chevrolet camaro zl1
,
chevy camaro zl1
,
chevy camaro zl1 forum
,
chevy camaro zl1 info
,
zl1 camaro
,
zl1 forum
,
zl1 forums
,
zl1 info
,
zl1 video
,
zl1 videos
,
zl1 vir