27 Jun, 2010
2010 Camaros dominate Carlisle GM Nationals
Posted by: admin In: Main ()
The Carlisle GM Nationals took place this weekend in Carlisle, PA, and as expected, the 2010 Camaros are beginning to dominate the show landscape. What a difference a year makes. By last year's 2009 Nationals, the 2010 Camaro had been in production for 3 full months and only a handful for 2010 Camaros were in attendance (photos from last year's event HERE).
Judging by THESE PHOTOS however, the scene at the 2010 Nationals now features a sea of 2010 Camaros. Many of the famous Camaros you've come to know are in attendance, including pace car Camaros, tuner Camaros, tribute Camaros, and unique Camaros by your fellow Camaro5 members.
Future GM Nationals will no doubt see ever increasing numbers of 5th generation Camaros (including hopefully more colors and models) and we're looking forward to seeing it!
P.S., as far as we know, there was no mention of the upcoming Camaro Z28 as at last year's show.
Read more on this story at the following LINK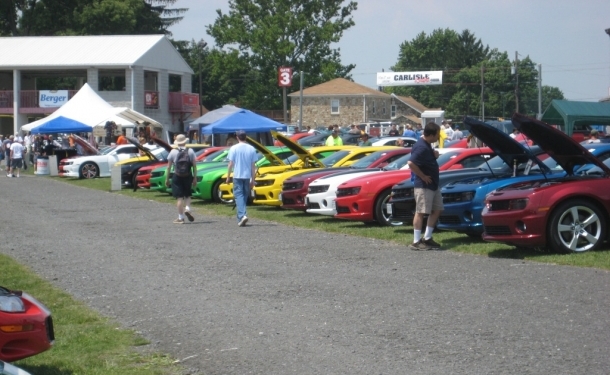 Tags:
2011 camaro z-28
,
2011 camaro z28
,
2011 z28
,
2012 camaro z-28
,
2012 camaro z28
,
2012 z-28
,
2012 z28
,
2013 camaro z-28
,
2013 camaro z28
,
2013 z-28
,
2013 z28
,
2014 camaro z-28
,
2014 camaro z28
,
2014 z-28
,
2014 z28
,
camaro carlisle nationals
,
camaro nationals
,
camaro z-28
,
camaro z28
,
carlisle gm nationals
,
carlisle nationals
,
new z-28
,
new z28
,
z28