18 Apr, 2012
ZL1 Cracks Into 10 Second Quarter Mile – 10.79 @ 134.36 MPH!
Posted by: admin In: Main ()
One of Lingenfelter's ZL1 has cracked into the 10′s today! They were back at Muncie Dragway again today to test their yellow ZL1 in an attempt to get it into the 10′s and they've done by some margin, running a record for a ZL1 so far at 10.79 @ 134.35 mph.
This ZL1 has the components from Lingenfelter's 700HP package, except they are spinning the supercharger faster (2.38″ upper pulley and 5% overdrive damper instead of 2.55″ upper pulley and 10% overdrive damper). They are also running VP109 unleaded race gas and have the calibration modified for that fuel.
Power at the rear wheels is 722 hp and 651 lbs-ft. Follow their thread inside for updates of potentially even faster runs today!
Read more on this story at the following LINK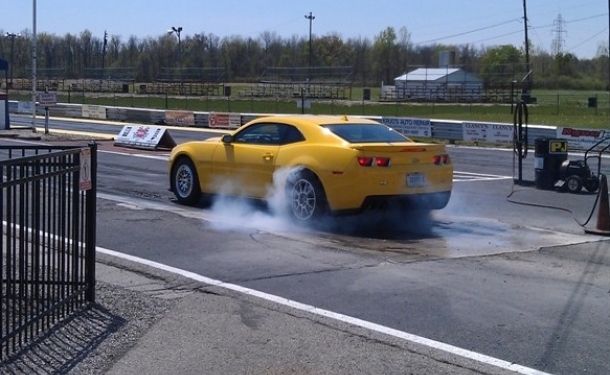 Tags:
2012 camaro zl1
,
2012 camaro zl1 quarter mile
,
2012 zl1
,
2012 zl1 1/4 mile
,
2012 zl1 quarter mile
,
2013 camaro zl1
,
2013 camaro zl1 quarter mile
,
2013 zl1
,
2013 zl1 1/4 mile
,
2013 zl1 quarter mile
,
camaro z1l dyno
,
camaro zl1 1/4 mile
,
camaro zl1 dyno figures
,
camaro zl1 dyno numbers
,
camaro zl1 dyno results
,
camaro zl1 dyno video
,
camaro zl1 forum
,
camaro zl1 forums
,
camaro zl1 quarter mile
,
camaro zl1 quarter mile time
,
lingenfelter camaro zl1
,
lingenfelter zl1
,
zl1 1/4 mile
,
zl1 dyno
,
zl1 dyno figures
,
zl1 dyno numbers
,
zl1 dyno video
,
zl1 forum
,
zl1 forums
,
zl1 quarter mile
,
zl1 quarter mile time