09 Sep, 2011
NEW Official Details on Camaro ZL1 — 580hp / 556 lb-ft torque!!
Posted by: admin In: Main ()
Besides showing off the Camaro ZL1 at various shows and events since its auto show debut, GM has been quiet on the ZL1 specs and details… until now [new details].
We've finally got official power info, and it was worth the wait! The 2012 Camaro ZL1 has been officially rated at 580hp / 556lb-ft torque!
It will come completely track ready, with Pilot Sport Cup Zero Pressure tires, beefed up transmission and output shaft, and the latest version of the vaunted Magnetic Ride Control. No announcement on price yet, but according to the ZL1 key dates schedule, that should come in mid-November.
Check out more details and some photos of a new silver Camaro ZL1 at the following link.
Read more on this story at the following LINK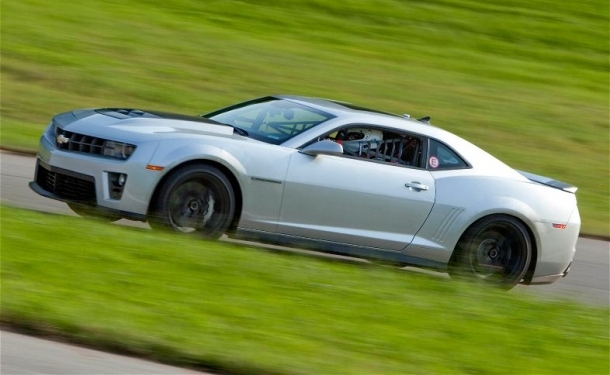 Tags:
2012 camaro z1l
,
2012 camaro zl1
,
2012 camaro zl1 video
,
2012 chevy camaro zl1
,
2012 zl1
,
2013 camaro zl1
,
2013 chevy camaro zl1
,
2013 zl1
,
2014 camaro zl1
,
2014 chevy camaro zl1
,
2014 zl1
,
camaro z1l specs
,
camaro zl1
,
camaro zl1 auto
,
camaro zl1 automatic
,
camaro zl1 automatic transmission
,
camaro zl1 compilation
,
camaro zl1 exhaust
,
camaro zl1 forum
,
camaro zl1 forums
,
camaro zl1 high performance
,
camaro zl1 photos
,
camaro zl1 pics
,
camaro zl1 track
,
camaro zl1 track pack
,
camaro zl1 track package
,
camaro zl1 traction control
,
camaro zl1 traction management
,
camaro zl1 video
,
camaro zl1 videos
,
chevrolet camaro zl1
,
chevy camaro z1l horsepower
,
chevy camaro z1l hp
,
chevy camaro zl1
,
chevy camaro zl1 forum
,
chevy camaro zl1 specs
,
chevy camaro zl1 video
,
new camaro z1l
,
new zl1
,
white camaro zl1
,
white chevy camaro zl1
,
white zl1
,
zl1
,
zl1 auto
,
zl1 auto transmission
,
zl1 automatic
,
zl1 compilation
,
zl1 exhaust
,
zl1 exhaust video
,
zl1 forum
,
zl1 forums
,
zl1 traction control
,
zl1 traction management
,
zl1 video