03 Aug, 2010
Spotted: Camaro Z28 Testing Against GT500!
Posted by: admin In: Main ()
HERE are the newest photos of the Camaro Z28 test mule being tested and directly evaluated against a Mustang GT500.
GM is making no secret of the benchmark they are attempting to clear — the 2010 Ford Mustang GT500. This should help put to rest some doubts as to whether this test mule is indeed the range topping Camaro Z28 model expected to be GM's answer to the Mustang GT500. Not only is this a GT500, but it's a 2011 GT500 with Performance Pack! That means it weighs 3750 with 550hp.
This latest sighting come on the heels of last week's spotting of the Camaro Z28 test mule.
See the full set of photos at the following LINK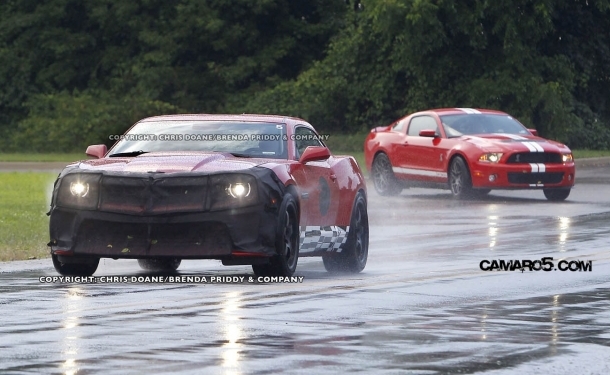 Tags:
2011 camaro z28
,
2012 camaro hp edition
,
2012 camaro hp model
,
2012 camaro z-28
,
2012 camaro z28
,
2012 z-28
,
2012 z28
,
2013 camaro hp edition
,
2013 camaro hp model
,
2013 camaro z-28
,
2013 camaro z28
,
2013 z28
,
2014 camaro z28
,
2014 z28
,
camaro hp edition
,
camaro hp edition model
,
camaro hp model
,
camaro z28
,
camaro z28 forum
,
camaro z28 hp
,
camaro z28 hp edition
,
chevy camaro hp edition
,
gt500
,
mustang gt500
,
new camaro z-28
,
new camaro z28
,
new camaro z28 forum
,
new z-28
,
new z28
,
new z28 forum
,
z28
,
z28 forum
,
z28 versus gt500
,
z28 vs gt500